Next Version
The release notes for newer versions of the BLOX Total CMS client can be found here.
5.51.03-1 Released 2021.07.30
Bug Fix for Page Notes dialog) When opening pages, the Page Notes dialog was opening even though the preference was not set to display it on opening. This has been correct. The Settings and Support options in the dialog shown below allow the dialog to be displayed during document closure but not during the opening. JIRA INDESIGN-3366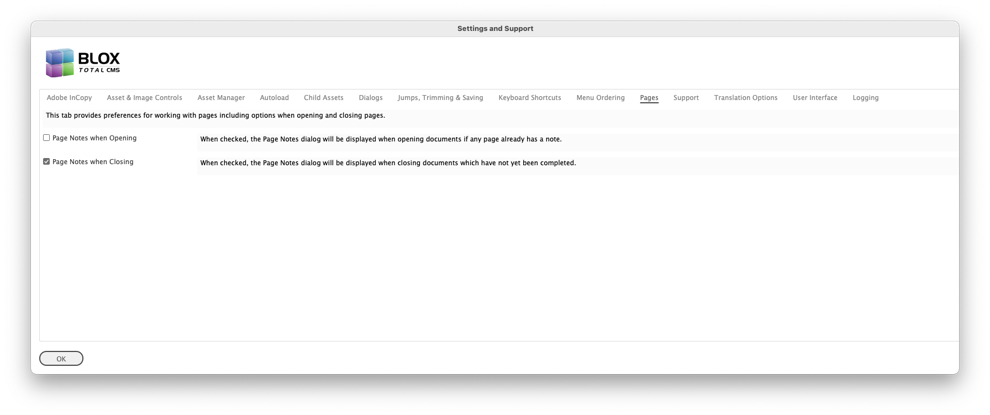 5.51.02-1 Released 2021.06.04
MacOS Output Preferences Bug Fix) The 5.47.01 version attempted to fix an output problem when using MacOS paths but a typo prevented it from working correctly and caused the MacOS to go to the user's folder instead of the directed folderPath. This has been corrected. JIRA INDESIGN-3183
Bug Fix) The change to storing Image Toning Preferences in Page Tracker created a bug in the client software when that feature activated with the release of Page Tracker version 1.15. The bug has been fixed. JIRA INDESIGN-3235
Change to Support of File Asset based PDFs) Full support for File Assets was originally to begin with the release of BLOX CMS version 1.55, but the final component needed wasn't released into BLOX CMS version 1.56. The client code had a switch added looking for CMS version 1.55 but that was wrong. It has, however, been changed so that it actually allows placement of File assets with CMS 1.52 and then full support with CMS 1.56. Appliance-based sites get BLOX CMS 1.52.2 with Appliance OS 2.29. Non-Appliance sites are already BLOX CMS 1.57.2 (as of 2021.04.30) and thus have full support. The first time a user launches with access to BLOX CMS version 1.52 or greater but less than BLOX CMS 1.56 they will get the informational warning below. The important thing here is that if File Assets are used, only write-back and changing workflows for Live e-Edition forward does NOT work. However, some media import jobs will only import PDFs as File Assets. Manual asset creation and Batch upload asset creation will continue to create legacy PDF assets. JIRA INDESIGN-3266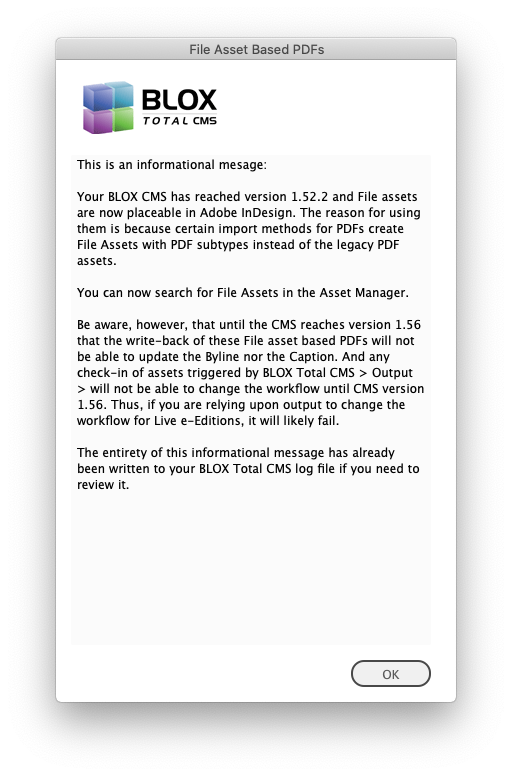 Bug Fix for Dead Jumps) A change in the 5.48.02 client broke the placement of the Continued From Jump Items when working with dead jumps if, and only if, the user was just clicking on the page when placing the dead jump. This has been fixed. The workaround is to first draw a frame and then when using Place Dead Jump it will place into the selected frame. JIRA INDESIGN-3267
Image Statuses Bug Fix) A change in client 5.51.01 modified the way that the Image Toning Preferences were parsed and that actually broke the Image Statuses function. This has been fixed. JIRA INDESIGN-3291
5.51.01-1 Released 2021.04.27
Access to Page Notes from within Adobe InDesign) For several years, Page Tracker has provided access to Page Notes but now they are accessible from Adobe InDesign. At this point, notes are available to be viewed and edited by choosing BLOX Total CMS > Documents > Set Notes of All Pages... Think of Page Notes as a revision comment for the page or as a way to indicate what you might be waiting on to be able to finish the page or the way an editor can communicate design information to the copydesk staff. Page Notes also ties into deadline tracking. JIRA INDESIGN-1510
Some examples of Page Notes include:
Please put Mayor story above the fold
Waiting on Late Ad
Lede story missing update
Toned images aren't ready yet
Missing Wisner Jewelry Ad
2022.07.04 local festival not turned in yet
Jumps expected on page 4
Image Toning Options can be stored in Page Tracker) To facilitate Distributed Production users having access to the Image Toning Preference Options when they don't have access to the local file server, the XML file can now be uploaded to Page Tracker with a Template Master feature available at BLOX Total CMS > Development > Page Tracker Image Toning Management > Upload Image Toning Preferences. All options are supported except for the option to use a mandatory.jrf file that some Color Factory sites might be using. If you need that support, please file a support ticket at support.townnews.com JIRA INDESIGN-3235
Clone and Move Change for Distributed Production) Phase I of Distributed Production's release will not support the use of Clone and Move. Users will find the option disabled if they have logged in using either Local or Remote Distributed Production. JIRA INDESIGN-3253
Adobe InCopy Assignments Disabled with Distributed Production) Since Adobe InCopy Assignments are not currently viable when users are logged in with Remote Distributed Production, the relevant functions have been disabled. JIRA INDESIGN-3254
Automatic Display of Page Notes) The Settings and Support dialog now allows for a user preference to display the Page Notes dialog upon opening and closing of pages/documents. With this preference there are now three access points:
If a page has a Note, opening the page will display the Note and allow you to make changes if the user preference requests it.
You can view/change page Notes whenever a page is open by using BLOX Total CMS > Documents > Set Notes of All Pages...
Upon Closing a Page, the Page Note option will be displayed if the user has selected that option in Settings and Support.
Prior Versions